ACTIONS
» We Are the Jewish Vote
THE JEWISH VOTE CHOOSES LIFE
The Bush Administration Kills Women
Bush reinstated the global gag rule to deny family planning money to organizations that even mention abortion. The result?
No condoms for 16 developing nations -- including those with some of the highest HIV and maternal mortality rates in the world.
THE JEWISH VOTE PROMOTES FAMILY VALUES
The Bush Administration Robs Working Families
Bush twice cut taxes for the wealthiest families, and promises to cut them again. How will he get the money?
By slashing housing subsidies for 800,000 working-class families, freezing college grants for low- and moderate-income students, and cutting food stamps for 450,000 poor women and children.
THE JEWISH VOTE STANDS WITH ISRAEL
The Bush Administration Endangers Israelis and Palestinians
From the first intifada in 1987 to the end of 2000, 463 Israelis and 1,830 Palestinians died in political violence. Since Bush's inauguration?
More Israelis (over 831) and Palestinians (over 2,757) have been killed than in the previous fourteen years combined.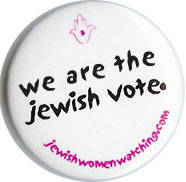 BURNING BUSH'S POLICIES OF MASS DESTRUCTION:
Get the project buttons and postcards.